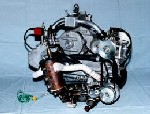 » Gallery
swissauto opposed engine
Already 1989, during the development of a highly supercharged motorcycle engine it was intensively recognized, which potential a small displacement - highly supercharged 4 stroke engine offers. With this knowledge swissauto tried to realize an everyday use vehicle concept optimised on fuel consumption and exhaust gas emissions.
In collaboration with Greenpeace and the Swiss Federal office of Energy, swissauto developped 1995 a completely new drive train unit, which integrated all the experience from the motorcycle project and also from the Swatch/Smart Hybrid project.
Target was to develop a future otiented technology in respect of the energy ressources and the increasing pollution.
For the first time, all the important components as engine, drivetrain, vehicle body and weight was optimised all together, which made it possible to reach such sensational results for this time.
The herein described engine included technologies, which only today are visible as trends in the automotive industry. This engine acclaims the first example of the today's downsizing /supercharging trend-technology. Furthermore, it posesses significantly reduced internal friction losses - the whole valve train was running on ball bearings, the coolant temperature was controlled load dependent and the cylinder / cylinderhead temperature was different. Even the crankcase was evacuated by a diaphragm valve to reduce the pumping losses of the engine.
All these are technologies, which are very trendy today or will be still coming in the future.
200 Nm/Lt. of torque and a performance of 110 kW/Lt. was already achieved with this very promising and interesting concept. These numbers are targets in the automotive world today.