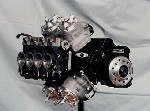 » Gallery
swissauto V4 500
With the all new developed 500 cc Motorbike race engine, swissauto setted some bits in Motorbike history on world class level.
Between 1992 and 1999, swissauto was active as a developer and supplier of Motorbike race engine and participated in the World Championship.
1994 the all new and revolutionary swissauto 500cc V4 engine was developed from scratch.
This engine was used in the Sidecar World championship, and between 1996 and 1999 it also was used in the GP1 500 cc Solo World championship by different Teams and under various brand names.
A pole position in the very first race from Biland / Waltisperg and a GP win in the 3rd race from Guedel / Guedel was the very impressive startup of this new engine concept in the Sidecar World championship.
In GP1 swissauto had a very fulminant start with a all new in-house designed and build bike ( MuZ / Weber ) setting a pole position in the 6th race at the Cataluña GP in Barcelona.
Totally 41 pole positions, 29 GP wins and 3 World champion titles was the very proud track record of 8 years Motorbike racing on top level.
End of 1999, swissauto retired from Motorbike racing.