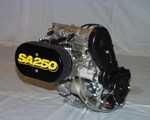 » Gallery
Biland sa 250
1992, the SA 250 engine was developed to power the Swatch Hybrid car and to charge the batteries of thi advanced project at this time. Equipped with 2 valves per cylinder, two spark plugs per cylinder and turbocharged, this lightweight engine was delivering 25 KW to the Generator.
At the time, when the Smart car evelved out of the Swatch concept, the Hybrid concept was cancelled by Mercedes Benz due to costs. The advanced swissauto concept of a small displacement turbo engine could survive and up to the 2006 Model, the Smart used a small displacement turboengine with 2 valves and 2 spark plugs per cylinder.
Swissauto started 1999 to modify the engine radically to be used in Motorsports for Karts. Instead of the turbocharger, the cylinder head was modified for better flow and higher rpms to name only one makor detail.
The result was the worldwide famous and succesful SA 250, which was produces during the years 2000 to 2006 within different companies.
This engine is still today the most sucessful 4 stroke race Kart engine worldwide.
With the swissauto 250 single cylinder engine, a worthy successor is launched.