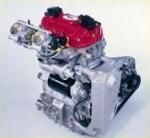 Design and development of gasoline engines for various applications
The key competence at our site in Burgdorf if the design and built of internal combustion engines. We are able to handle a new project from the fist idea to the running prototype out of one hand with lots of inhouse fabrication. Depending the project frame, prototype and pre series of up to 100 units were built in the past at swissauto. If used on Ground with 2, 3 or 4 wheels or on the water from a Jetski to Offshore Boats, in the Snow or in the air, swissauto has done lots of different projects in a variety which is alsmost unique worldwide.
Swissauto could show during the past years, that there can be found the right solutions for the requests of the customer.
Numerous Worldchampion Titles and Awards are substantiating this impressively.
Übersicht Dienstleistungen Motor