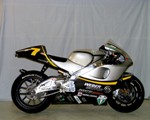 » Gallery
MZ - WEBER GP1
For 1999, after breaking with ROC,swissauto was designing and building their own new bike including chassis, engine and fairing. The team also was reconfigured and started as Team Biland GP1 with Luca Cadalora and Juergen van der Gorbergh as riders into the season.
Already during the first testrides, the potential of this new bike was visible with very good results. The first sensation became trough when Luca Cadalora started from the second row into the French GP in Le Castellet.
Just two races later, Juergen v.d. Gorbergh put the bike on the pole position for the spanish GP in Barcelona. A second pole at Brünn GP and a front row position at the GP at Sachsenring showed the big potential of the bike and the whole team.
After totally 15 top ten rankings, 2 pole positions and 2 track records, this very ambitious project had to be stopped at the end of the season becasue of finacial reasons.
Further informations to this Project can be found in the V4 engine project page.