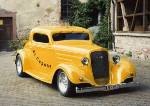 » Gallery
swissauto Al Capone
In 1988 the swissauto Al Capone was the first car project of the company.
The target was to built a very different sportscar compared to everything existing on the street in Europe, which amuses through a sympathic nostalgic look and a tremendous powerful acceleration behaviour.
The bodywork was an exact replica of the legendary Chevy 34 coupe; the roof was chopped by 75 mm.
To handle the huge amount of horsepower, the chassis was completely redone by swissauto using a new developped tubular steelframe and components used in the US Nascar series.
Even with this very unefficient old style aerodynamics of the body, the car accelerated from 0 to 200 km/h within only 11.3 seconds, which was a best ever measured value for street legal cars for a long time and only the new Ferrari Enzo could then finally beat it.
The car was streetlegal tested and homologated by the German TüV.