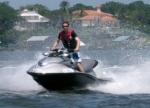 » Gallery
Polaris MSX Watercraft
Unique design, high performance, low emissions, low consumptions and a high quality standard. These key points were the targets for the development of the new Polaris MSX personal watercrafts.
swissauto was contracted from Polairs and Weber Motor to develop a new jet drive train system with the MPE 750 turbo engine.
Due to restricted emission levels and lower fuel consumption requests, the change from 2 stroke to 4 stroke engines was needed also in Jetski's.
Rapidly increasing performance requests and bigger displacements created a big change in the market during the past years and "Horsepower" became a big marketing and sales argument.
With the MPE 750 turbo engine, swissauto developed a highly integrated power unit which could comply with the EPA rules and the Polaris targets.
The Idea was, to realize a new power unit with automotive standards, offering extremly high power to weitht ratio, high spedific horsepower at a very high robustness.
To get a compact drive system, all the external systems as turbocharger, charge air cooler, watercooler, oil cooler and dry sump oil system was integrated to a complete unit being bolted with the integrated engine mounts as a complete ready to run unit into the boat hull.
To comply the the marine and emission rules, a new watercooled Aluminium Turbine housing with integrated turbine was developed inhouse.
The engine electronics application was very critical due to the small displacement turbo engine coupled with the direct drive impeller. Specially the launch from idle and the rpm limitting over wakes requested new strategies which was developed at swissauto in collaboration with Bosch Motorsports.
The MSX production was startet in 2003 with two performance levels of 110 and 150 HP, and already in 2004, the boat was awarded as "Jetski of the year".